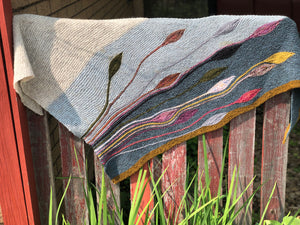 Heather is a genius. She took this pattern that doesn't look that great (picture from the pattern is below) and turned it into this amazing work of art. AND she used all her scraps. She had leftover Finullgarn that she used for the background. For the Tulip buds she used her sock leftovers. Amazing.
Of course, we had to turn it into a kit. We browsed our shelves and found current sock yarns that match what Heather used. The shawl in the photo is exactly what you get in the kit.
It's also very easy to knit IF you like short rows. You start a corner and increase on one edge. The edge you are not increasing on is the one that you start and stop all the colors. The short rows move the buds apart, but you can see that the buds start on the same edge, and every 2 rows. You never have to carry your background color more than those two rows. It's really a genius pattern too.

The kit contains
all the yarn you need to make one shawl, the pattern
a color key so you know where to put each color
and the picture of the shawl you will create.
(You get the same amount of yarn for all the buds so you can also put them anywhere you want.)
Needles: Size 6. 24" or 32" circular